BellaPlayer is an extremely lightweight application to play music on your home theatre PC via your iPhone, iPad or any other device on your network with a browser. You can also use BellaPlayer to copy/download files from your computer to your mobile device.
You do not need to install any software on your mobile - simply download and run the exe on your home theatre PC then point your mobile's browser at the given address. The browser will display the contents of your HTPC in a familiar iphone-styled list which you can easily navigate to play songs or download files to your iDevice.
Step 1
Download BellaPlayer.exe (691kB) Or download this zip if you're firewalled
Step 2
Run BellaPlayer.exe, you will be prompted to run as Administrator; this is necessary for the embedded web-server.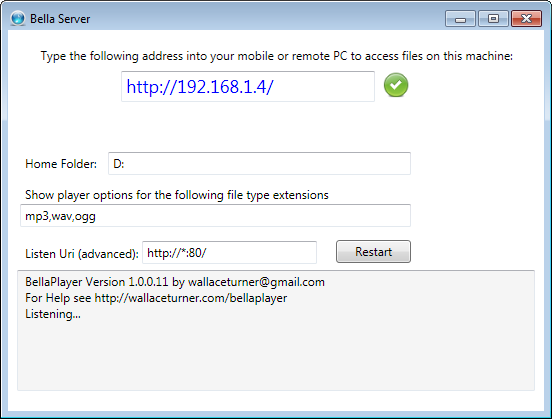 Step 3
Type the address into your browser: (this will be different on your PC)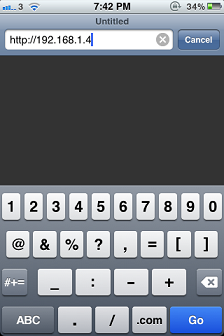 --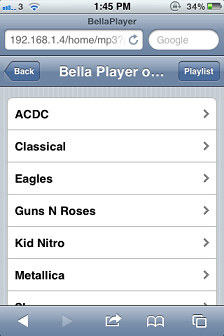 --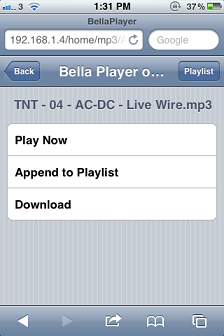 That's it! By default, any mp3's you navigate to will play on your home theatre PC. There is support for playlists as well so you can queue up several items. If you navigate to a non-playable item (defined by the extension of the file) then the file will be downloaded.
BellaPlayer (Server) runs on Windows XP, Vista and Windows7, both 32 and 64 bit are supported. The server component requires the .Net Framework 3.5 Client Profile. If you're on Windows 7 you already have this.